I wish I could say I was cool enough to have been wearing creepers all my life. Unfortunately I'm not. Like many people, I returned to the style a few years ago when thanks to Mrs Prada the crepe sole began inching its way back into fashion favour. I bought my first pair in about 25 years from
Underground
, who along with
TUK
are probably the best known and most easily available of the dedicated creeper brands. Being very classically minded, I went for the most basic style possible: a
three eyelet lace up with a pointed toe in plain black leather
.
Before I go any further, let me say that my mass-produced Underground creepers were very nice shoes. They were rugged and comfortable. They quickly became the indispensable workhorse on the shoe farm and I walked them into the ground. But by the time they became unwearable it was obvious that
any replacement was going to have to be an upgrade
. It was time to go back to the source for some English bench-made quality of the kind only to be found at
George Cox
.
"Original" is a word that brands like to bandy about to make themselves sound important and it's almost always meaningless. But when
George Cox
slap it on their creepers there might just be some truth to the claim. The style was pioneered by the company
as early as 1949
and in the years that followed the brand became known for distinctive footwear that was radical, urban and quintessentially British.
The rest, as they say, is history, and
what a long and (in)glorious history it's been
. The origins of the creeper are rooted firmly in post war counter culture, along with such styles as the winkle picker and the Beatle boot. Received wisdom has it that it's descended from the crepe soled desert boot, but probably closer to the truth is that it's the wayward offspring of a thick-soled brogue and the desert boot's louche cousin, the chukka boot. This chicken-and-egg innovation was closely associated with the
Teddy boys
, the earliest of the identifiable youth groups which emerged in rebellion against austerity in the years following WWII and later morphed into Britain's teenage Rock & Roll culture in the 1950's.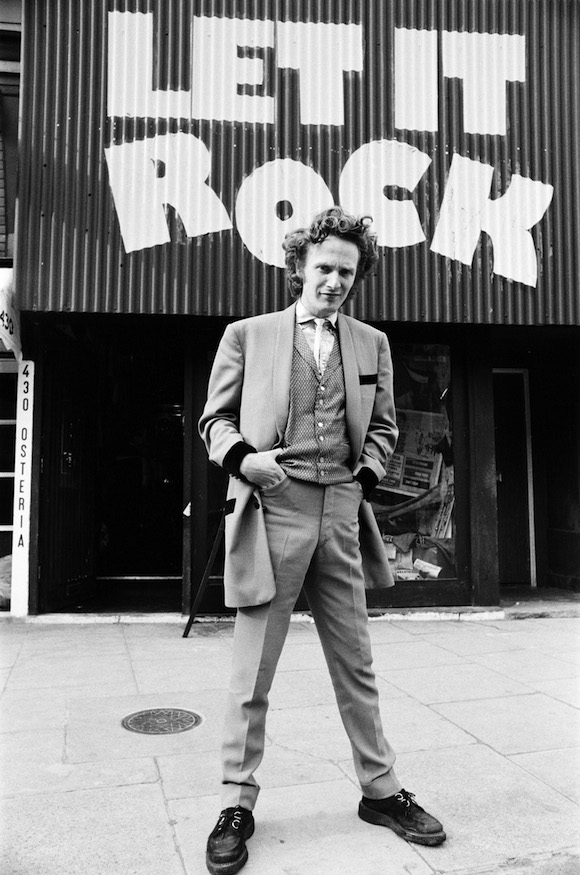 Malcolm McLaren walking the walk
The 60's belonged to Mod and for a time rockabilly style fell out of favour, but George Cox continued to serve a loyal fan base of Teds through a network of shops throughout the UK. When Malcolm McLaren
approached them in 1973
, he had no idea the creepers were still in production. He ordered six styles to sell at
Let It Rock
, the shop he ran with Vivienne Westwood on the Kings Road. Over the years that followed the shoe became an emblem of subversive punk styling, largely due to their influence.
Somewhere in the mid '80's, the rebellious styles associated with the New Wave began trickling down to the mainstream.
The subversive edge that defined the era
became something to be commodified and repackaged for suburban kids hungry for glamour. By the time Underground emerged in 1987, the creeper had weathered multiple fashion cycles and was ripe for appropriation. Demand was consistent and steady, and would remain so.
In the thirty years between then and now, Underground have gone from strength to strength and are now thoroughly established as leading purveyors of the mass-produced creepers so favoured by the
ingenues of the fashion blogosphere
. In 2012 they opened a flagship shop on Soho's trendy Berwick street, and now
their shoes adorn the feet of many a bright young thing
. The brand has a sharp awareness of the history that keeps them on the cutting edge and they work hard to stay there.
The status of the creeper as an alt-fashion must-have was further cemented by its appearance on the catwalk at
Saint Laurent in A/W 2014 menswear collection
. Appropriated by
Hedi Slimane
, a third-culture Parisian and possibly the era's leading arbiter of urban cool, the style has come a long way from its origins in Northampton. Saint Laurent's creepers, manufactured in Italy and retailing at several times the price, are at a glance almost indistinguishable from the George Cox original.
In all this time, George Cox have remained so far under the radar that it's a stretch to even describe them as a cult brand. Their online presence is devoid of almost anything resembling twenty-first century marketing. Scant reference or acknowledgement is paid to anybody who might possibly be their intended customer. And when I decided I needed a pair of English bench made brothel creepers, it quickly became clear that there was little point in trying to buy them online. The only way I was going to get them was to pay a visit to a single bricks-and-mortar store on London's Kentish Town Road.
Robot creepers made by George Cox
at the British Boot Company
In a staggering irony of the kind only fashion could deliver, most of George Cox's output now finds its way onto the feet of
the discerning street style mavens of the Far East
, while the British high street is flooded with copies of the iconic style imported from Asia. It's worth pondering how this reversal could have happened.
There's a clue to be found in their respective identities. The creeper is an evergreen icon of youth culture, and young people will always demand cool over heritage. As a brand, Underground are cool as fuck. George Cox in the wrong light could easily look like something your sleazy uncle or your friend's hot dad might wear. But the gentlemen at the British Boot Company are proud to sell them and rightly so, because even Dr Martens have figured out that in a globalised market of rapid turnaround and disposable fashion, the outstanding quality and craftsmanship of English footwear simply can't be beat. You can fake anything, but you can't fake a good pair of shoes.
And compared to my now defunct Underground creepers, these are a different beast altogether. In contrast to hollow lightweight plastic glued to the shoe, George Cox creepers boast a thick welted sole made from solid crepe rubber. The uppers are full grain leather inside and out, the interlace detail on the apron intricately cut and precisely stitched. I fully expect to be wearing these shoes for many years to come.
Fashion has played a strange trick in making a cult item of a mass-produced replica while the original article remains puzzlingly obscure. Nonetheless, in an era of instant shopping gratification by Internet, it's refreshing to come across an item of such provenance that's so absurdly difficult to buy. I wouldn't be at all surprised to discover that George Cox and the British Boot Company would like to keep it that way.